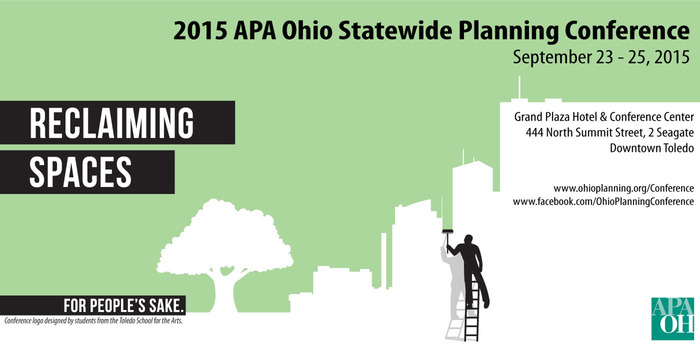 The NW Ohio Section of APA Ohio is proud and excited to be the host section for the Statewide Planning Conference in 2015. There are very exciting transformations occurring in the urban core of Toledo as well in the neighboring major City of Detroit, Michigan to the north.
The urban areas that have for so many years been focused on commuting to and from via motorized transportation are undergoing generational changes and becoming more people focused as planners and community leaders are "Reclaiming Spaces – For People's Sake", which is the theme for our 2015 Conference.
The conference sessions, mobile workshops, and professional development opportunities will focus on this key theme. The conference will provide a venue where the latest strategies and proven successes can be shared with others around the State of Ohio, as well with attendees that will likely come from SE Michigan and NE Indiana as the City of Toledo is situated such that the conference location is only 20 minutes to the Michigan State Line and 1 hour 20 minutes to the Indiana State Line.
The NW Ohio Section and the APA Ohio Chapter look forward to having you at the conference this coming September.
Yours Truly,
Patrick Etchie, AICP
Director, NW Ohio Section of APA Ohio
Conference Information

About the Workshop. The annual David J. Allor Planning & Zoning Workshop, sponsored by APA Cincinnati, will be held on Friday, January 30th at the Anderson Center in Anderson Township. As always, the workshop will offer information on the basics of planning and zoning and cover current topics of interest.
Location and Agenda. Registration and continental breakfast begins at 7:30 AM. The workshop runs from 8:00 AM - 4:30 PM. An after hours reception will be held from 4:30 - 6:30 PM. View the preliminary brochure for the full agenda.
Anderson Center
7850 Five Mile Rd
Cincinnati OH 45230
- See more at:
http://www.ohioplanning.org/aws/APAOH/pt/sd/calendar/34483/_PARENT/layout_details/false#sthash
.m9ojNqNO.dpuf
---
QUICK LINKS
---
Important Dates.
2015 Conference Dates

Professional Development Workshop| Wednesday, September 23

Full Conference| Thursday-Friday, September 24-25

Session Proposals| Due Friday, April 10

Sponsorships/Exhibitors| Due Saturday, August 1

Award Nominations| Due Monday, July 20


Scholarship Applications| Due Wednesday, July 1


Early Bird Registration| Opens Wednesday, July 1


Venue + Hotel.
All conference sessions Wednesday, Thursday, and Friday will take place at the Grand Plaza Hotel & Convention Center, located in the heart of downtown Toledo. Special event and mobile workshop locations will be noted in the conference brochure.
Conveniently, the Grand Plaza Hotel & Convention Center also serves as the conference hotel. A special conference rate of $119.00 per night (plus tax) is available for conference attendees. Please book early, as the conference rate is available for a limited block of rooms only until September 11, 2015.
Book your room by clicking here or calling 419.241.1411 and be sure to ask for the Ohio Planning Conference group rate.



Registration.
Registration Dates |



| | | |
| --- | --- | --- |
| | Opens | Closes |
| Early Bird | July 1 | August 5 |
| Regular | August 6 | September 11 |




Registration Rates |



Early Bird

Regular

Thursday*

Friday**

Full

Thursday*

Friday**

Full

APA Ohio Members

$120

$135

$255

$140

$155

$295

Non Members

$140

$150

$290

$160

$170

$330

Student Volunteers***

$45

$45

$90

$45

$45

$90
*Thursday only includes Wednesday + Thursday evening receptions
**Friday only includes Friday Lunch
***Must work 4 hours/day to receive discount



Special Programs + Guest Tickets |



| | | | |
| --- | --- | --- | --- |
| | Wednesday | Thursday | Friday |
| Professional Development Workshop | $70 | - | - |
| Mobile Workshops | - | $25 | $25 |
| Thursday Evening Reception | - | $25 | - |
| Friday Luncheon | - | - | $45 |
Program Highlights.
Welcome Reception| Wednesday, 5:30pm @ Tony Packo's Cafe, 7 South Superior Street
Kick off the conference with colleagues at a casual gathering at the world famous Tony Packo's Cafe. You may purchase additional tickets for this event to bring guests not registered for the conference.

Opening Plenary| Thursday, 8:15am @ Grand Plaza Hotel + Convention Center
Our opening plenary speaker for the 2015 Conference will be the American Planning Association's newly appointed Executive Director, James M. Drinan.

James M. Drinan, J.D., has a 25-year career in association management, most recently as the Executive Director of the American Association of Endodontists and its Foundation for 12 years. Prior to the AAE, Drinan was the Associate Executive Director of the American Association of Orthodontists, served as the Director of Health Care and Government Relations for the American Association of Oral and Maxillofacial Surgeons, and began his career as a federal attorney for the U.S. Department of Health and Human Services in Chicago.

Drinan's career has focused on association leadership, governance, and strategic planning. He has had executive responsibility for a family of organizations, including associations, foundations, international federations, for-profit subsidiaries, and political action committees. He has served as general counsel, lobbyist, and spokesperson for associations at the state and federal levels.

A native of Boston, he received a B.A. in Political Science from Providence College and a J.D. from the DePaul University School of Law. He has written and lectured on association management, government relations, and legal issues. Drinan has served on, and chaired, boards and committees in numerous legal and association management organizations, as well as his college alumni association and condominium association. His interests include travel, golf, and helping the Boston Red Sox win the World Series.

Conference Reception| Thursday, 5:30pm @ Fifth Third Field, 406 Washington Street
Celebrate planning with friends and colleagues new and old at the conference reception Thursday evening. APA Ohio has booked the entire Toledo Mud Hens Baseball Stadium! You may purchase additional tickets for this event to bring guests not registered for the conference.

Keynote Speaker + Awards Luncheon| Friday, 11:15am @ Grand Plaza Hotel + Convention Center
Our Friday Luncheon Keynote speaker for the 2015 Conference will be ULI Senior Resident Fellow (and previous Pittsburgh PA Mayor), Tom Murphy.

Tom Murphy, ULI Canizaro/Klingbeil Families Chair for Urban Development, has been a senior resident fellow at the Urban Land Institute since 2006.

A former mayor of Pittsburgh, his extensive experience in urban revitalization—what drives investment, what ensures long-lasting commitment—has been a key addition to the senior resident fellows' areas of expertise. Murphy also serves on the Advisory Board of ULI's Rose Center for Public Leadership in Land Use.

In 2011 he wrote Building on Innovation, a ULI report discussing the economic impact universities and hospitals have on local economies and providing detailed strategies to shape a successful 21st-century city based on a private/public/university partnership.

Before joining ULI, Murphy served three terms as mayor of Pittsburgh, from January 1994 through December 2005. During that time, he initiated a public/private partnership strategy that leveraged more than $4.5 billion in economic development in the city. Murphy led efforts to secure and oversee $1 billion in funding for the development of two professional sports facilities, and a new convention center that is the largest certified green building in the United States. He developed strategic partnerships to transform more than 1,000 acres of blighted, abandoned industrial properties into new commercial, residential, retail, and public uses, and he oversaw the development of more than 25 miles of new riverfront trails and parks.

From 1979 through 1993, Murphy served eight terms in the Pennsylvania House of Representatives. He served in the Peace Corps in Paraguay from 1970 to 1972. He is a 1993 graduate of the New Mayors Program offered by Harvard University's Kennedy School. He holds a Master of Science degree in urban studies from Hunter College and a Bachelor of Science degree in biology and chemistry from John Carroll University.

He is an honorary member of the American Society of Landscape Architects; a board member of Harmony Development Inc. of New Orleans; president of the board of the Wild Waterways Conservancy of Pennsylvania; and a board member of Mountain Lake Inc. of Virginia.

The 2015 Ohio Planning Awards will also be presented at the luncheon. These awards recognize planning projects and people in a number of categories.

You may purchase additional tickets for this event to bring guests not registered for the conference.
Become a Sponsor.

Sponsors of the 2015 APA Ohio Planning Conference will reach hundreds of planners, elected officials, allied professions, and public agencies from all over Ohio, as well as from SE Michigan and NE Indiana during this three day event.

Click here for more information and to become a sponsor.

Sponsorships are due August 1.



Propose a Session.
The APA Ohio Statewide Planning Conference attracts planning professionals, citizen planners, elected officials, planning commission and zoning board members, zoning inspectors, attorneys, developers, engineers, and real estate professionals. The goal is to provide a venue where planning and various professional/public backgrounds can come together and discuss/share innovative tools, techniques, projects, plans, research and other initiatives that are transferrable and can foster engagement and transformations within communities.

This three-day conference will provide the opportunity to share the latest strategies, proven successes, lessons learned, and best practices with colleagues, community leaders, allied professions, and other jurisdictions from all around Ohio as well as southeast Michigan and northeast Indiana given the close proximity of Toledo to both Michigan and Indiana. Exciting new trends and practices are transforming our urban areas as we all begin "Reclaiming Spaces, for People's Sake"! Please join us at the 2015 APA Ohio Statewide Planning Conference and share your thoughts and experiences.

Click here for more information and to submit a session proposal.

Session proposals are due April 10.
Planning Awards.
Planning award information coming soon! In the meantime, click here to view the categories and 2013 award recipients.

Important Dates:
June 9 > Call for Nominations
July 20 > Nominations Due
August 28 > Recipients Notified
September 25 > Awards Luncheon



Conference Scholarships.
Scholarship information coming soon!


Important Dates:
June 1 > Call for Applications
July 1 > Applications Due
July 31 > Recipients Notified



All About Toledo!
Downtown Toledo in recent years has undergone major changes and is transforming itself into a more vibrant urban center with successes being:
New baseball stadium for the Toledo Mud Hens (made popular by hometown M.A.S.H. television star Jamie Farr)

Owens Corning World Headquarters along the waterfront

Recent announcement of ProMedica moving its headquarters to Downtown Toledo as they plan to re‑use an old Toledo Edison Steam Plant historic building

The residential occupancy rate in downtown Toledo is over 95%, which is attracting new businesses and restaurants (including the World famous Tony Packo's restaurant next to the Toledo Mud Hens stadium)
---
Keep up to date on Conference news!
Workshop Information
Workshop Information