Sponsorship Opportunities
Recognizing the strain on budgets and volatility of most everything in 2020, APA Ohio pledged to step up and support our members the best way we knew how - to provide a host of timely and top notch virtual professional development opportunities - all for free. This even included a month long planning and zoning workshop series in October 2020.
Now that we are *almost* on the other side of this historic pandemic, we need support! Please consider sponsoring the 2021 APA Ohio Planning Conference. 100% of sponsorship dollars goes right back into the upkeep and future of our century-old professional organization of over 1,500 members.
There is no sponsorship deadline, but the sooner you register your sponsorship, the more exposure you receive. Download a copy of the sponsor opportunities.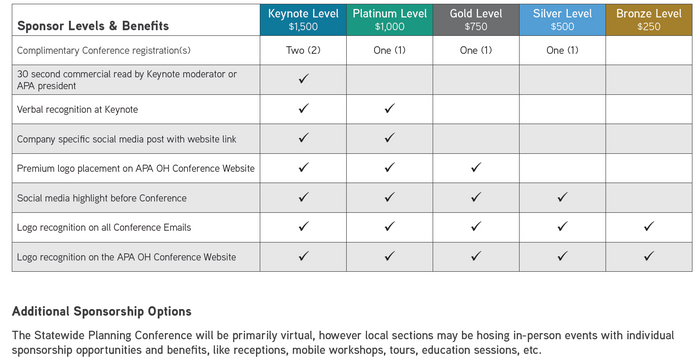 *Want to sponsor a local event? Email info@ohioplanning.org for more details
---
For registration and/or payment questions, please contact Christine Davis by email at info@ohioplanning.org.
Sponsorship payments are due via check no later than 30 days from registration. Please make checks payable to:
APA Ohio
PO Box 4085
Copley OH 44321