Complete Story

03/07/2023
Jared Ellis Memorial Award
The Jared Ellis Memorial Award was created to honor the life and work of Jared Ellis. Jared was first a caring, loyal and kind friend who shared his energy and laughter with us every day. He had a zest for life that was unmatched. Jared was also a tremendous public servant who was proud to serve Cincinnati, the city and community he called home, as a City Planner for the City of Cincinnati. Jared loved his chosen career path and inspired his co-workers, peers and the communities he worked in.
This award was created to help further the career goals of those pursuing City and Regional Planning in the Cincinnati metropolitan area.
MISSION STATEMENT
Intent is to recognize and honor the contributions of a student or early professional to the planning profession in the Cincinnati and Tri-State Region
Keep Jared's spirit active in the planning profession
Recognize those who embody the characteristics of Jared (early professional who is passionate about the planning field, specifically public sector planning, working with communities, etc.)
This award acknowledges what is often not recognized by other awards - potential and commitment early on in their careers encouraging those who come to planning a little bit later in life, fater other career choices or taking the "non-traditional path"
ABOUT JARED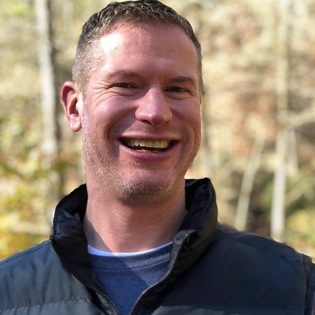 Jared Ellis joined the City of Cincinnati family as an intern with the Department of City Planning (before it was City Planning and Engagement) in 2016 while completing his Bachelor of Urban Planning at the University of Cincinnati and was hired as a full-time employee in 2018. Jared is remembered by many as a true champion for Cincinnati. He had a zest for life that was unmatched and will be missed. Jared was also a tremendous public servant who was proud to serve the City of Cincinnati. That pride was demonstrated in his work. Jared was tireless, never shy to take on a new challenge. He treated everyone fairly and with respect. He also had a knack for using humor to bring a sense of levity to even the most difficult situations.
His work included many diverse projects, including facilitating the Subdivision and Zoning Working Group, which resulted in the creation of the first major rewrite of the City's Subdivision Regulations in over 60 years; coordinating subdivision requests; staffing the City Planning Commission; facilitating the Neighborhood Planning Process for Columbia Tusculum and Kennedy Heights; helping to plan the Neighborhood Summit; working with the Office of Budget and Evaluation on Community Budget Engagement and managing the Community Budget Request Process; assisting with the approval of the Marian Spencer Statue at Smale Riverfront Park; and leading the effort to get Findlay Market designated as a "Great Place in America" by the American Planning Association.
Jared was also a gifted communicator, and gave countless presentations, including to the Cincinnati City Planning Commission, Cincinnati City Council, community groups, students, and fellow professionals. Jared had a special, very personable, way of connecting with his audience, often using humor to enliven even the most technical subjects. In his position, Jared worked with many community organizations, community members, and development teams, many of whom expressed what a joy it was to work with him. Through his years working for the Department of City Planning, Jared regularly received accolades for his friendliness, responsiveness, fairness, and technical proficiency.
MAKE A DONATION
Donations are now being accepted via credit card (VIS | MC | DIS) or check.
By Check:
Please make checks payable to APA Cincinnati with the memo "Jared Ellis Memorial Fund" and send to:
Department of City Planning and Engagement
Attn: Jesse Urbancsik
805 Central Avenue, Suite 720
Cincinnati, OH 45202

By Credit Card:
APA Ohio has offered to cover the costs associated with credit card merchant fees for this program.
APPLY FOR AN AWARD
Eligible applicants include:
City, Community, and/or Regional Planning, Urban Studies, Public Administration, or other planning-related course of study undergraduate or graduate students studying or working in the Cincinnati metropolitan area
Recent graduates (within 5 years of graduation) and/or early professional planners (0-5 years experience) pursuing work or working in the Cincinnati metropolitan area

APPLICATIONS
Applications will be open on May 31, 2023, Jared's birthday. Please check back at this time. The application window will be open for approximate 2-3 months, concluding in late Summer of 2023.
The application will consist of a few short essay questions, and a few fun facts about the applicant applying. Applicants should think about how they embody the characteristics of Jared of:
Passion for building better places and communities
A positive attitude towards challenges
Superior communication skills
A commitment to public service
Leadership and consensus building skills
Commitment to community
QUESTIONS
For any questions or comments, please contact Jesse: jesseurbancsik@yahoo.com or 513-352-4843.
---