Because We Plan
"Because We Plan" is an effort to share the positive outcomes of planning activities across the state of Ohio with our constituents. The chapter board felt that the name APA Ohio lacked sufficient identity to create a strong awareness of planning outside of our members. What does APA Ohio do? What is the benefit of planning to our communities? The vital message the organization should be shouting from the rooftops is that because we plan, good things happen. The goal of this effort is to create a simple and effective way of telling the planning story as well as rallying greater support and interest in planning by citizens, allied professionals, and both local and state officials.


JOIN THE MOVEMENT.
BRAG about Great Places in Ohio!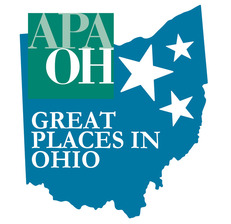 We are proud to announce the inaugural Great Places in Ohio Awards. Because we plan, great places exist all across Ohio. They are small and large, rural and urban, old and new. Great places take many forms—an entire community, neighborhood, building, public space, natural area or street.

We want to share your stories.
The 2018 winners were announced October 3 at the OKI Planning Conference in Cincinnati. For more information, click here.
SPREAD the Planning Word.
Use #BecauseWePlan in social media to talk about good planning.
The more we can get the word out, the more people such as our local, state, and federal decision makers will understand the value of good planning.
SOCIALIZE with Us.