Chapter Plans and Bylaws
Strategic Plan | 2020-2024

The Strategic Plan is APA Ohio's guiding framework. It articulates the Chapter's mission and priorities, and ensures that all Board actions serve the organization's strategic priorities. It serves as the foundation for the Chapter's annual committee work plans, which is how the Board implements strategic priorities along with the annual budget. The Board issues an Annual Report describing yearly performance.
The Executive Committee is responsible for executing the Chapter's strategic plan. The Executive Committee facilitates the creation of annual workplans and budgets to implement strategic initiatives, balanced with each committee's annual responsibilities defined by the APA Ohio bylaws.
The APA Ohio Chapter Board developed four strategic priorities, with supporting tactics to be implemented over the next five years: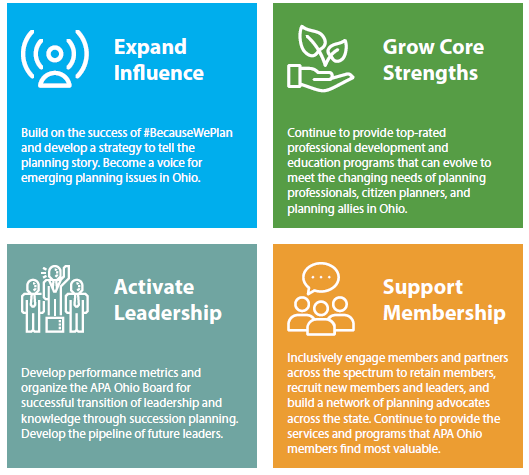 APA Ohio's Work Plan is a one (1) year plan with the intent to identify priorities and ways in which to accomplish short term goals based on the Strategic Plan. The Work Plan is divided up over APA Ohio's seven (7) Committees.

APA Ohio's bylaws dictate the rules and structure by which our organization runs. Adopted by the Ohio Planning Conference in 1989, the latest version was last revised in 2021.
Chapter-Section Relationship Policy