Professional Development
Throughout the year, APA Ohio offers speaker luncheons, professional development workshops, webcasts of various trending topics and networking events to allow members to stay current on local planning issues.The Chapter also offers regional and state conferences and supports section-level workshops. These events provide opportunities for members to make new contacts, renew old ones, recognize achievements, and exchange ideas.
APA Ohio belongs to and moderates the Planning Webcast Series - which are free weekly webcasts on a variety of planning topics which are all available for CM credit.
---
We know that no-cost virtual programming will be key to maintaining our mission of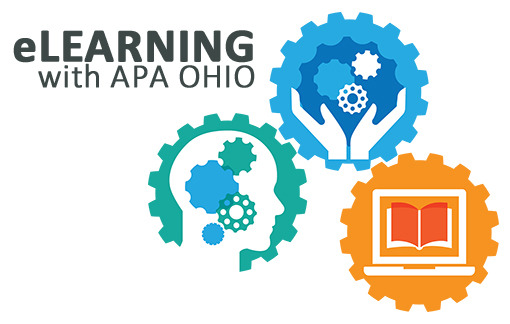 providing quality professional development to membership. APA Ohio and our Sections are currently hosting virtual events, and partnering with professional organizations to bring you a wide breadth of educational opportunities, for free.
AICP & CM
About AICP Certification
Taking the AICP (American Institute of Certified Planners) exam is the first step to become a certified planner. To qualify, one must be a current APA National member, submit an online application meeting certain education and experience criteria, and pass an examination. To learn more about how you can prepare for and pass the AICP examination, click here. For a quick reference guide to the AICP Certification process, click here.
APA Ohio supports the professional development of its members. APA Ohio and its six sections throughout the state provide periodic workshops and conferences to help you gain knowledge and network with others as you work towards your AICP certification.


CM Tracking Log
All AICP members are required to engage in mandatory continuing education. All professional development activities must be approved and registered to be eligible for CM credit and recorded into your online CM log. To register or log into your CM Tracking Log, click here.
CM Activities
Many of APA Ohio's Planning and Zoning Workshops, Regional Conferences, State Conferences and Sponsored Events have CM accredited sessions!
Click here to see APA Ohio's events calendar.
For a list of fee-based audio and web conferences with CM credits available through APA National, click here.
For a list of free webinars with CM credits available through the Planning Webcast Series, click here.


Obtaining CM Credit for Your Event
If you have an upcoming event that you'd like approved for CM credit, click here and you'll be directed to a CM provider page through APA National's website. APA Ohio Sections do support various local events and help by acting as the provider for CM credit. If you would like to pursue a potential partnership with a specific APA Ohio Section for your event, please contact the Section Director.


One Path to AICP is Here
AICP Certification will always stand for expertise, ethics, experience, and ongoing professional development. With the One Path to AICP Certification, beginning in Spring 2022 students and new and experienced planners alike can begin their next career move with a single streamlined and modern certification process.
Assess your readiness for certification and get answers to our most frequently asked eligibility questions with the Eligibility Pre-Check, including an interactive experience calculator to help you determine how soon you may apply to become AICP certified.
Exam Diversity Scholarship

---
APA Ohio is committed to fostering equity, diversity, and inclusion in the organization and in the planning profession. Diversity is an inclusive concept which encompasses, but not is not limited to race, ethnicity, class, gender, age, sexuality, ability, educational attainment, spiritual beliefs, creed, culture, tribal affiliation, nationality, immigration status, political beliefs, and veteran status. This program was put into place by APA to make the planning profession more diverse and accessible to those with financial need.
If you self-identify with an under-represented population, you may be eligible for a 2023 AICP Exam Diversity Scholarship.
The next round of scholarships is for the Spring 2023 exam window. The request window closed on January 31.
Path to AICP: Prep
---
Visit www.planning.org/aicp for all the latest information and upcoming deadlines. Below is a summary of resources we believe are most helpful.
Step 1: Register



Eligibility Requirements
Certification Guide
Step 2: Test

Exam Content Outline
Exam Content Study Videos (Tip 3)
Planning Historical Timeline (Specifically Important Planners and Planning Movements)
Foundational Land Use Law Cases
AICP Code of Ethics
Prometrics Online Tutorial
APA Ohio Suggested Study Resources
Step 3: Apply
Section 1: Education History & Verification
Experience Eligibility Requirements
Planning Curriculum Worksheet
Section 2: Employment History
Planning Experience Worksheet
Section 3: Planning Experience Assessment
Planning Experience Assessment Worksheet
Other Resources

---
APA Chapter Resources
APA Florida
APA Georgia
APA Pennsylvania

Chapter Presidents Council CPC Study Manual

APA's Chapter Presidents Council is pleased to offer the CPC Study Manual for those who are preparing to take the American Institute of Certified Planners written examination. Should you decide to purchase the manual, we hope you will find it a useful resource.
The purpose of this self-study manual is to help review basic planning concepts and to practice skills that are necessary for taking a multiple-choice test.

Purchase a Copy
FAICP
Election to Fellow (FAICP) is one of the highest honors that the American Institute of Certified Planners (AICP) bestows upon a member. Below are the biographies of APA Ohio Fellows. For more information on the FAICP process and the work they promote, click here and you will be directed to the National APA site.
APA Ohio is proud to have twenty-one FAICP members within our membership!


Fellow Biographies