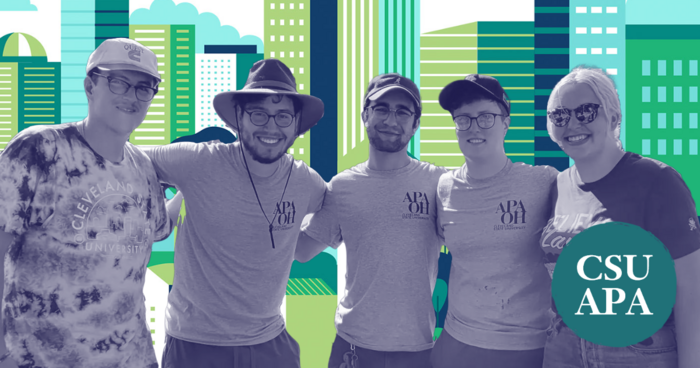 Welcome!
Nestled on Euclid Avenue in downtown Cleveland, the Cleveland State University Levin College of Urban Affairs is home to CSU APA. We are Cleveland State University's official Planning Student Organization (PSO).
The purpose of our organization is to provide CSU students interested in planning with the support and professional tools necessary to develop leadership skills, advocate for excellence in community planning, promote education and citizen empowerment, and provide the tools and support necessary to meet the challenges of growth and change.
Our PSO provides opportunities for students to engage in community events; pursue personal interests; and engage with planning professionals at the local, state, and national levels throughout the year. Our formula for success is constantly evolving but our goals and priorities are always rooted in the student.
Leadership

Shneur Kushner
President

Jack Brancatelli
Vice President
Nate Lull
Secretary

Erica Tinirello
Treasurer
Join CSU APA
Joining our student organization is free and easy!
*Note: A CSU APA membership does not include your free APA membership. This is a separate registration process (see below).
Kickstart Your Planning Career With APA — For Free!
It's easier and more affordable than ever for students and new planners to get started in APA. In fact, membership is now free for any student actively enrolled or matriculated in any university or college degree program. It remains free for the duration of an individual's studies. "Free" includes APA, APA chapter, and AICP membership as well as membership in up to five APA divisions. Student members will be eligible for two years of reduced dues after ending their studies.
With free membership and lots of benefits, the American Planning Association is where you belong!